Love Collar made of cowhide
---
Love collar - Made in Germany.
The update of the Swiss Collar design classic!
The front is red with white hearts, the back is lined with black cowhide.
The eye-catching hearts are individually edged and sewn in the Bielefeld manufactory in elaborate manual work. In addition to its beautiful appearance, the LOVE collar is characterized by its special wearing comfort.
The size specification refers to the total length, measured without the buckle.
Available in the following sizes / adjustment options / width:
Size 32: 24-28cm / 2.6cm
Size 37: 30-34cm / 2.6cm
Size 42: 35-40cm / 2.6cm
Size 47: 38-44cm / 3.0cm
Size 50: 35-43cm / 3.9cm
Size 55: 41-49cm / 3.9cm
Size 60: 47-54cm / 3.9cm
Size 65: 51-58cm / 3.9cm
Size 70: 56-64cm / 3.9cm
Size 75: 61-68cm / 3.9cm
Size 80: 62-72cm / 3.9cm
We offer a matching, adjustable leash that is 2 m long and 1.3 cm and 1.8 cm wide for the collar.
The leash offers a 3-fold adjustment option.
In the case of dyed leather, there may initially be slight, fading discolouration.
You can find more collars and leashes for your four-legged friend in our online shop HERE.
---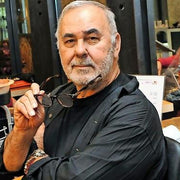 Udo Walz †


Star hairdresser

The materials of the products have convinced my two dogs and me very much.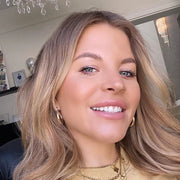 Ina Aogo


Influencer

I love Koko von Knebel's articles and the options for custom-made products.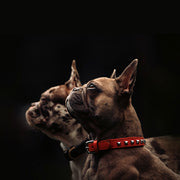 Bruno


Dog

My individual collar fits perfectly and is my new favourite product.