---
Classic in cool Concho Chic!
KvK Handcrafted - Collar Classic Curved Concho Edition
A new collar classic from the Koko von Knebel studio!
Leather processed by us meets the highest standards, each hide is checked and selected by hand. Each hide is unique due to its special, natural structure. To guarantee constant quality, only whole leather hides are used.
The dog collar Klassik has a curved shape, it is wider in the middle and tapers narrowly. This makes it possible to use a narrow buckle, which makes the collar look more filigree. This special edition is decorated with Concho studs and an additional leather or fur strip of your choice.
The size specifications refer to the total collar length in cm, measured without buckle.
Sizes approx:
35: holes approx. between 26 - 30.5 cm - lower width 2.5 cm / upper 2.0 cm
40: holes approx. between 30.5 - 35 cm - bottom width 2.5 cm / top 2.0 cm
45: holes approx. between 34 - 40 cm - bottom width 3.0 cm / top 2.5 cm
50: holes approx. between 38 - 44 cm - bottom width 3.0 cm / top 2.5 cm
55: holes approx. between 44 - 50 cm - lower width 3.0 cm / upper 2.5 cm
60: holes approx. between 47.5 - 55 cm - bottom width 3.5 cm / top 3.0 cm
65: holes approx. between 52.5 - 60 cm - bottom width 3.5 cm / top 3.0 cm
The matching leash is available in 2 lengths, as city leash with 120 cm and in the adjustable long version with 200 cm. You can choose between 1.5 cm and 2.0 cm width. The size of the carabiner increases with the width.
The coloring of the pictures can differ slightly from the original.
Different colour or different size? No problem! Please note with your order which alternatives are desired. We will then send a sample picture by mail before we start the production.
Further collars and leads for your quadruped in our online shop you will find HERE.
100% Handmade - 100% Unique - 100% Koko von Knebel
Ready for dispatch within Germany in about 3-5 working days. Deliveries abroad may vary.
---
100% handcrafted
Incomparable craftsmanship in every seam. Every article is truly unique and there is a lot of heart, time and work in each of our products. This is exactly what makes the charm of Koko von Knebel.
Real leather from Germany
Koko von Knebel stands for quality - good leather becomes more beautiful over the years and develops. With our products you get durability, timeless designs and your four-legged friend a uniquely great comfort. Quality simply makes the difference.
---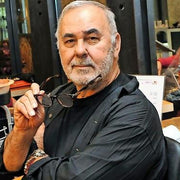 Udo Walz †


Star hairdresser

The materials of the products have convinced my two dogs and me very much.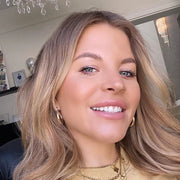 Ina Aogo


Influencer

I love Koko von Knebel's articles and the options for custom-made products.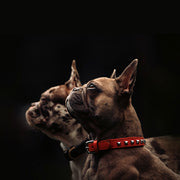 Bruno


Dog

My individual collar fits perfectly and is my new favourite product.