---
Our masterpiece, silver XXL Skulls on black Nappa.
KvK Handcrafted - Black Skull Masterpiece
This collar clearly captivates by the unusual, striking skull trimmings.
An eye-catcher that 100% attracts attention!
For our KvK Handcrafted articles we only use quality leather from European suppliers. Each skin is carefully checked and selected by our experienced staff by hand. This ensures that you will receive an exquisite, handcrafted article made of exquisite leather. Each collar is 100% handmade in Germany for you after you have placed your order.
Size of the skulls is about 2.2 x 3.0 x 1.3 cm, they are silver coloured with blackened eyes.
The collar width is about 3.5 cm, each collar is equipped with 4 skulls.
The following collar sizes indicate the complete approx. length of the collar, measured without buckle, as well as the respective position of the perforations:
size 45: holes between 34 - 40 cm
size 50: holes between 37 - 44 cm
size 55: holes between 42 - 50 cm
size 60: holes between 47 - 55 cm
size 65: holes between 52 - 60 cm
size 70: holes between 57 - 65 cm
Different colour or different size? No problem! Please indicate which alternatives you would like to order, we will send you a sample picture by mail before we start the production.
A matching flat lead can be ordered in several lengths and widths.
It is available either as a standard leash with 100 cm or in adjustable versions with 200 cm and 300 cm. The size of the carabiners with the width of the lines too.
A special feature is that our KvK leashes are completely sewn and therefore have no rivets, which makes them more durable, longer lasting and they lie better in the hand.
We also manufacture this collar with gold-coloured skull trimmings and for smaller quadrupeds in sizes 25 - 45. Please simply enter "Masterpiece" as a search term.
We are also happy to make an individual bracelet, key ring or belt on request.
100% Handmade - 100% Unique - 100% Exclusive = 100% Koko von Knebel
We would like to point out that the pictures are carefully selected, the same applies to the product description. In spite of the greatest care, minimal deviations are possible, especially in the colours due to individual screen settings. In this context we would like to point out that leather is a natural product and every skin has a natural structure, the same applies to trimmings in the form of natural stone, crystals etc. For further information please see our terms and conditions, which contain important information about your order. Thank you very much!
More collars and leads for your quadruped in our online shop you will find HERE.
---
100% handcrafted
Incomparable craftsmanship in every seam. Every article is truly unique and there is a lot of heart, time and work in each of our products. This is exactly what makes the charm of Koko von Knebel.
Real leather from Germany
Koko von Knebel stands for quality - good leather becomes more beautiful over the years and develops. With our products you get durability, timeless designs and your four-legged friend a uniquely great comfort. Quality simply makes the difference.
---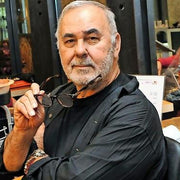 Udo Walz †


Star hairdresser

The materials of the products have convinced my two dogs and me very much.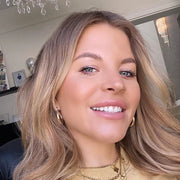 Ina Aogo


Influencer

I love Koko von Knebel's articles and the options for custom-made products.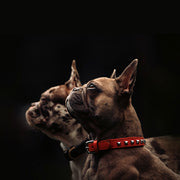 Bruno


Dog

My individual collar fits perfectly and is my new favourite product.