---
Noble comfort zone!
KvK Crossbag - dog bag à la Parisian chic!
Who does not know this, if one is on the way with the small quadruped and many people are around you, then one takes it up frequently, so that it is not stepped on. In addition one would like to have also gladly times the hands free and the quadruped should be protected.
We have tried out a number of slings and sling bags with our dogs. We always came to the same result. They felt unsafe in the standard slings, because there is no reinforcement in the ground. And after some time, carrying them also becomes strenuous.
With this in mind, we sat down and designed the KvK Crossbag. Even our Koko Dog Max, which has not found a sling to be good and comfortable, likes to be carried in the Crossbag.
Essential features of the Crossbag are:
- a low dead weight;
- the reinforced fabric bottom for better hold and safety;
- high carrying comfort due to the wide, lightly padded shoulder strap;
- it is foldable and easy
to clean - in this model a small additional pocket is integrated in the shoulder strap.
Our model Max shown in the picture has nearly 3 kilos, it is 40 cm long from the tail to the snout and there is still a lot of space in the bag. We recommend this Crossbag for dogs up to 5-6 kilos.
The Crossbag is hung diagonally and sits optimally slightly above the waist and not too far down. If you want to wear the bag over a thicker jacket or vest, please choose size L/XL. The bag is a one size fits all with 2 handles of different lengths, which are adjusted to the size of the person.
- Size S/M has a handle length of approx. 62 cm, for people up to approx. 55 kilos;
- Size L/XL has a handle length of approx. 78 cm, for people over 55 kilos
The outer fabric used is a woven fabric with a noble wool look, while a soft and cuddly plush fabric is processed on the inside, which harmonizes with the outer fabric in terms of color. This Crossbag is suitable for hand washing or machine washing in the gentle wash cycle. Please do not use fabric softener or spin-dryer when washing.
If you are still looking for a bag, then we recommend the AIDA. You will find further models of the Crossbag HERE.
Each Crossbag is 100% handmade in our studio in Kiel after receipt of your order, the average delivery time is 5-7 days.
100 % Handmade - 100% Exclusive = 100% Koko von Knebel
---
100% handcrafted
Incomparable craftsmanship in every seam. Every article is truly unique and there is a lot of heart, time and work in each of our products. This is exactly what makes the charm of Koko von Knebel.
---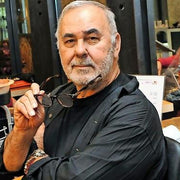 Udo Walz †


Star hairdresser

The materials of the products have convinced my two dogs and me very much.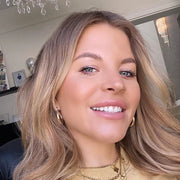 Ina Aogo


Influencer

I love Koko von Knebel's articles and the options for custom-made products.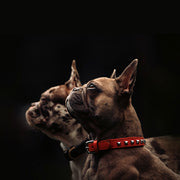 Bruno


Dog

My individual collar fits perfectly and is my new favourite product.