Aida dog bag - Luxe brown
---
The Aida, our IT bag!
KvK Aida dog bag - Luxe brown
What makes a dog bag an "IT Bag"?
The priority is that the four-legged friend likes to lie in it and feels comfortable! Otherwise it should not look like a "typical" dog bag. It must be light, washable, handy and practical.
Voila! Our Aida is the answer! She is what we want: a bag, a plaid, a basket...
The Aida, used as a bag, has the following approximate dimensions: height 26 cm, length 55 cm, removable bottom 44 x 20 cm.
Spread out as a plaid the Aida has a diameter of about 75 cm, when used as a basket with a gathered edge it has a diameter of about 50 cm.
On the outside we use a hard-wearing solid fabric for the Aida, on the inside a cuddly fake fur. All in all, this model is perfect in form and convinces with its stable feel.
The special whistle is that the Aida is so carefully crafted that you can turn it around as you please.
Additional features on this model are:
- two patch outside pockets
- a short leash with 2 carabiners to secure the leather quadruped
- a removable fake fur Puschel with leather loop as decoration
- removable reinforcing base
- Lugs for pulling in the middle flaps and the side straps
- a shoulder strap, approx. 100 cm long and 3 cm wide, is included with this model
Of course, the Aida can be washed by hand with mild detergent or in the gentle wash cycle in the machine, but please do not use fabric softener. After washing the coat must be brushed!
Each KvK Aida is (D)a unique specimen, which we make with much love and patience in our studio in Kiel. The average production time is 5-7 days.
The foldable silicone travel bowl on the last picture is not included.
You can find more bags for your quadruped in our Onlineshop HERE.
100% Handmade - 100% Exclusive - 100% Koko von Knebel
---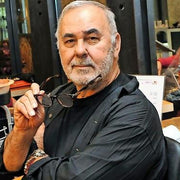 Udo Walz †


Star hairdresser

The materials of the products have convinced my two dogs and me very much.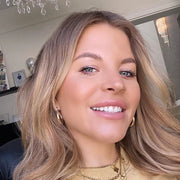 Ina Aogo


Influencer

I love Koko von Knebel's articles and the options for custom-made products.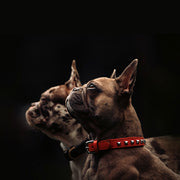 Bruno


Dog

My individual collar fits perfectly and is my new favourite product.