---
The snacks for in between!
Dog's Deli Snacks
Creatively and very tasty composed.
Varieties:
HERZENSBRECHER
Refined with turkey liver.
Composition: Wheat flour, oat flour, oat flakes, turkey liver, canola oil & rosemary
Ingredients: 14.4% crude protein, 8.1% crude fat, 1.4% crude fiber, 1.5% crude ash
Weight: 100 grams
GLÜCKLICH
With ham and beet.
Composition: whole wheat flour, wheat flour, corn, oatmeal, fresh yogurt, noble ham, beet, rapeseed oil, garlic, juniper, rosemary
Ingredients: 12.6% crude protein; 5.1% crude fat; 1.5% crude fiber; 1.6% crude ash; 8.1% water
Weight: 100 grams
BANANAS
With bananas and hazelnuts.
Composition: wheat flour, rye flour, banana, hazelnuts, canola oil, rosemary
Ingredients: 10.2% crude protein, 13.2% crude fat, 1.8% crude fiber, 66.2.3% N-free extractives, 1.6% crude ash, 7.0% water
Weight: 100 grams
FRÄULEIN ANTJE
With Gouda and Egg
Composition:Wheat Flour, Edible Oat Flour, Edible Oat Flakes, Polenta, Gouda, Egg, Rapeseed Oil & Rosemary
Ingredients:14.4% Crude Protein, 10.9% Crude Fat, 1.2% Crude Fiber, 1.7% Crude Ash, 8.5% Water
Weight: 100 grams

COCOS-CROSSIES
With yogurt and pear
Ingredients: coconut flour (25%), potato flakes, fresh yogurt (12%), dried pear, potato flour, vanilla
Ingredients: 10% crude protein, 6% crude fat, 12% crude fiber, 5% crude ash
Weight: 100 grams

FARMER'S COOKIE
With wholemeal spelled flour and lamb
Composition: Wholemeal spelled flour, spelled flour, corn, lamb, fresh yoghurt, spinach, rapeseed oil, rosemary.
Ingredients: 6.7% crude protein, 5.3% crude fat, 1.1% crude fiber, 3.3% crude ash, 9.7% water
Weight: 100 grams
You can find more treats for your four-legged friend in our online shop HERE.
---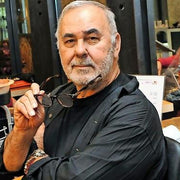 Udo Walz †


Star hairdresser

The materials of the products have convinced my two dogs and me very much.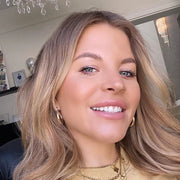 Ina Aogo


Influencer

I love Koko von Knebel's articles and the options for custom-made products.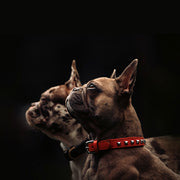 Bruno


Dog

My individual collar fits perfectly and is my new favourite product.