Cult Couture Muffler - Glam Special with individual print
---
Individual and sporty scarf!
Cult Couture Muffler - Glam Special
In addition to our popular Scarfs we offer with this muffler a casual, sporty scarf version.
The muffler can easily be pulled over the head. The fabric used for this model is a densely woven jersey, which is thicker, heavier and somewhat more stable than conventional jersey, with a soft surface and a pleasantly supple handle. For this model, you are welcome to opt for a larger muffler, as the material is not quite as elastic.
With the Glam Special variant you choose the word or name that you want to be immortalized on the muffler as a glam application. Please enter the term in the text field above. The size of the letters or numbers will change proportionally to the size of the muffler and the length of the selected application.
Sizes (circumference) approx:
XS: 28 cm (very small four-legged friends)
S: 32 cm (small four-legged friends)
M: 40 cm (medium sized four-legged friends)
L: 48 cm (large four-legged friends)
XL: 56 cm (very large four-legged friends)
XXL: 64 cm (very, very large four-legged friends)
Please note that due to the stretch material, the sizes of the mufflers may vary slightly in the specifications.
Each muffler is handmade in our studio in Kiel, a special accessory that you will enjoy every day!
Ready for dispatch within Germany in about 3-5 working days. Deliveries abroad may vary.
You can find more Cult Couture mufflers in our online shop HERE.
100% Handmade - 100% Exclusive - 100% Koko von Knebel
---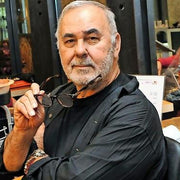 Udo Walz †


Star hairdresser

The materials of the products have convinced my two dogs and me very much.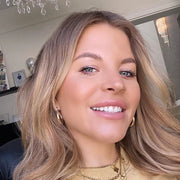 Ina Aogo


Influencer

I love Koko von Knebel's articles and the options for custom-made products.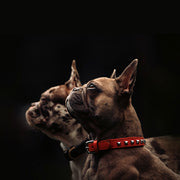 Bruno


Dog

My individual collar fits perfectly and is my new favourite product.