---
Elegant & Classic!
Koko - Two-In-One - Hand & Dog Bag Felt
This very chic handbag from KvK Atelier is also a stylish dog bag that you can customize yourself in no time.
Dog bags are, just like handbags, an indispensable and useful accessory if you have a smaller four-legged friend. Especially when you are out and about and there are many people around you, it is better to pick it up so that it is not kicked.
The Koko Two-In-One has the following features:
- modern design & material; -
a very low weight; -
two outside pockets for personal items or treats etc.; -
exchangeable leather straps on the side for a flexible look; -
a longer handle, so you can carry it in your hand and also over your shoulder.
The colors of the leather straps are freely selectable, to each Koko belong 2 strap sets - that means 4 pieces.
The Koko offers space for everything that women have in their handbag... and space for smaller quadrupeds up to 5 kilos, their approximate measurements are
width 40 cm, height 30 cm, bottom 19 x 33 cm, handle length approx. 70 cm
Matching the bag hand we like to make additionally a soft KvK Cuddle cuddle bag, which you simply put into the bag and turn upside down, so that your quadruped can cuddle up really well. The cuddle bag has two sides, a fur side and a fleece side. The size of approx. 55 x 40 cm fits perfectly into the bag and keeps it clean inside. You can find the cuddly bag in our online shop HERE.

The used material is felt. Please do not clean this article in the machine. To freshen up the felt you can easily wipe it off with vinegar water. For dry dirt please vacuum or brush the surface carefully. Please note that the mobile phone is not included in the delivery.
If you are looking for another bag, we recommend the AIDA or the Crossbag, you can find them HERE.
Each Koko Hand & Dog Bag and the KvK cuddly bag is 100% handmade in our studio in Kiel after receipt of your order.
Ready for dispatch within Germany in about 3-5 working days. Deliveries to foreign countries may vary.
100% Handmade - 100% Exclusive = 100% Koko von Knebel
---
100% handcrafted
Incomparable craftsmanship in every seam. Every article is truly unique and there is a lot of heart, time and work in each of our products. This is exactly what makes the charm of Koko von Knebel.
---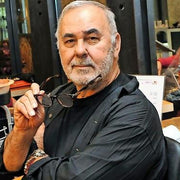 Udo Walz †


Star hairdresser

The materials of the products have convinced my two dogs and me very much.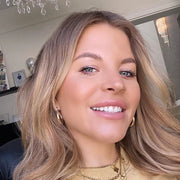 Ina Aogo


Influencer

I love Koko von Knebel's articles and the options for custom-made products.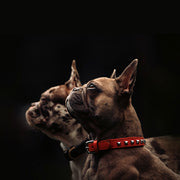 Bruno


Dog

My individual collar fits perfectly and is my new favourite product.